Document Number WHC-MR-0521 is available to download as a 50 page WordPerfect file
MANUFACTURING PLUTONIUM
This section of the website displays the main five sections and individual chapters which discusses in some detail how plutonium was manufactured to make the first atomic bomb. Links to go directly to those parts of the process that were related to Stan Thompson's Bismuth-Phosphate separation process are highlighted below in yellow. Additionally, photographs which have been declassified by the United States Government since Gerber's text was written have been added.
PRODUCTION STORY AT THE HANFORD SITE:PROCESSES AND FACILITIES HISTORY
June 1996
ABSTRACT
This document tells the history of the actual plutonium production process at the Hanford Site. It contains five major sections:
• Radiochemical Reprocessing of Irradiated Fuel
Within each section, the story of the earliest operations is told, along with changes over time until the end of operations. Chemical and physical processes are described, along with the facilities where these processes were carried out. This document is a processes and facilities history. It does not deal with the waste products of plutonium production.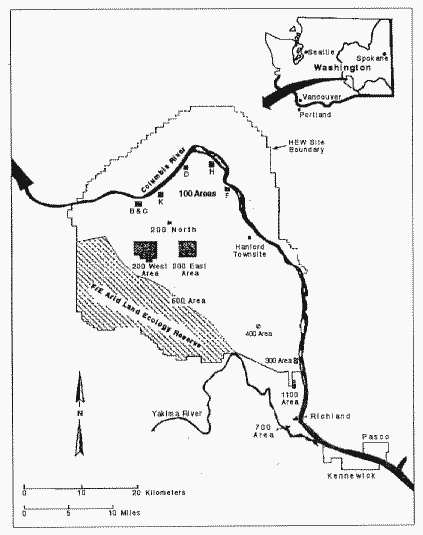 If you have already installed Google's free application Google Earth, then you can download Hanford.kmz and open it on your own computer for annotated overlays for actual images of the Hanford facility. If you do not have Google Earth, then click on this icon
to download it and install it before you download Hanford.kmz and open the file on your own computer.
TABLE OF CONTENTS
1.0 FUEL FABRICATION PROCESSES 58
1.1 SINGLE PASS REACTOR FUEL FABRICATION 58
1.1.1 Solid Uranium Metal Fuel Produced 58
1.1.2 The Overall Process 59
1.1.3 Canning 60
1.1.4 Canning Tests 61
1.1.5 Additional Chemical and Hazardous Components 62
1.1.6 Process Changes 62
1.1.7 313 Building Expansion Under Eisenhower/Switch to Lead-Dip Process 63
1.1.8 Projection Fuel Elements 64
1.1.9 End of Single-Pass Reactor Fuel Making 64
1.1.10 Other 313/314 Building Processes 65
1.2 N REACTOR FUEL FABRICATION 67
1.2.1 The 333 Fuels Manufacturing Building 67
1.2.2 Co-Extrusion Process 68
1.2.3 Other Processes in the 333 Building 69
1.2.4 The Waste Acid Treatment System (WATS) Process 69
2.0 IRRADIATION PROCESSING AT THE HANFORD SITE 71
2.1 HANFORD'S SINGLE PASS REACTORS 71
2.1.1 Historic Significance of B-Reactor 71
2.1.2 Single-Pass Reactor Buildings 71
2.1.3 Operation of the Single-Pass Reactors 73
2.1.4 Change and Experimentation in Production Process 73
2.1.5 Graphite Expansion Early Problem 74
2.1.6 Increased Power Levels/Production 74
2.1.7 Operating Challenges at Higher Power Levels 75
2.1.8 Reactor Upgrades for Increased Production 77
2.1.9 End of Single-Pass Operations 78
2.2 N REACTOR OPERATIONS 79
2.2.1 105 N Building and Reactor 80
2.2.2 N Reactor Operating Changes and Challenges 81
3.0 SPENT FUEL HANDLING AT THE HANFORD SITE 83
3.1 ORIGINAL LAG STORAGE PRACTICES 83
3.2 212 LAG STORAGE BUILDINGS CLOSE 83
3.3 CLOSURE/RE-OPENING OF FUEL STORAGE BASINS 84
4.0 RADIOCHEMICAL SEPARATIONS PROCESSING 86
4.1 THE BISMUTH-PHOSPHATE PROCESS 86
4.1.1 Start-up of Radiochemical Processing at HEW 86
4.1.2 T, B, and U Process Groups 86
4.1.3 Original Separations Buildings 86
4.1.4 Galleries 87
4.1.5 Canyon 88
4.1.6 Processing Equipment 88
4.1.7 Stair Towers 89
4.1.8 224 Bulk Reduction Buildings 89
4.1.9 231 Isolation Building 90
4.1.10 The Bismuth-Phosphate Process 91
4.1.11 Dissolving 92
4.1.12 Extraction 92
4.1.13 Decontamination 92
4.1.14 224 Bulk Reduction Process 93
4.1.15 231 Isolation Process 93
4.1.16 Earliest Operations 93
4.1.17 Early Process Changes 94